Since version 9.1 of the woodLAB PLAN panel cutting optimization software, it is possible to gather the parts that need to be following to preserve the wood grain for example or any other decor. This function will be used in the case, for example, of a lower kitchen unit made up of four wooden pot drawers and one drawer in the upper part of the unit. Any other combination is naturally possible.
Provides an optimal solution that takes into account the technical characteristics of the machines, the economy of the material and an optimal sawing.
With the manual optimization, you can intervene on the cutting planes calculated automatically to insert and move a detail or to complete the panels, which have a high drop percentage.
For this type of operation, the user has a series of instruments such as the grouping of the pieces, their rotation, their symmetry, the copying and the verification of the feasibility, which will relieve him of all the controls necessary to obtain the sawing plans.
The optimizer groups parts by type of material, by thickness, by color. It allows to choose among the panels offered to the user and the availability in store, the formats that reduce waste, time or total cost of production to a minimum.
Starting from commercially available formats or starting from the ideal measures to obtain the least waste, the program can choose the best panels for a certain production.
Management of the warehouse of raw materials, semi-finished products and finished products.
Allows grouping of panels or sheets by material type, color, thickness, grain direction.
Management of the recovery of offcuts and the offcuts store.
Sawing sequences are provided with a printed report and/or in digital form (post-processor) for an edger.
Any type of machine is managed, each with its specific parameters.
The post-processor fully exploits the characteristics of all types of saws or beam saws.
List of compatible machines: Gabbiani - Giben - Holzher - Holzma - Homag - Macmazza - Mayer - Paoloni - SCM - Selco - Sektor - Steton
Warehouse or production data can be imported from ASCII files or Microsoft Excel files from standard or custom plots.
Printing of cutting plans, summaries, sawing sequences, optimization costs, printing of labels and barcodes.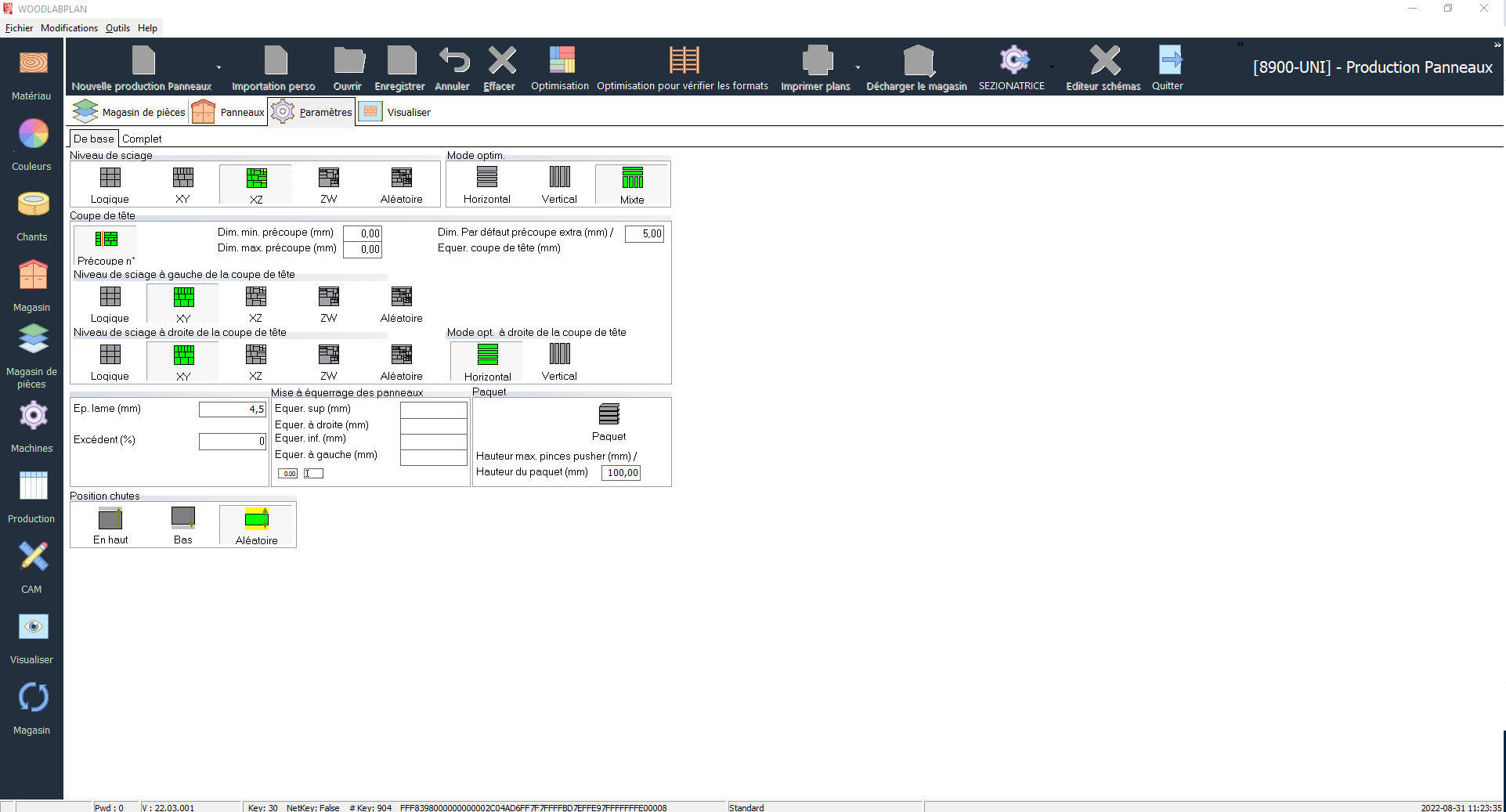 Possibility of managing the characteristics of single productions or of a set of particular pieces whose characteristics are already stored.
Integration with a powerful module that distinguishes the parameters that allow the management of the most varied and heterogeneous productions.
Advance calculation of the time and cost of a particular production.
Writing estimates based on the cost of the material, the hourly cost of the machine and the cost of the work.
Provides guidelines for getting better formats.